The Sandman Will Keep You Awake - The Loop
Play Sound
Barn
Details

Description

Provides shared storage that players can use when placing buildings and workers

Cost

10 Stone
10 Planks

Size

3x3

Requirements

Woodworking Research

Other

4 x 50 storage slots (global, upgradeable)

Quick Access Shortcut (default)

E - R - W
The Barn is an upgradeable storage building.
Description
[
]
The barn is a building you can place in the game. It provides an upgradeable place to store Items.
Barns start with 4 slots with a maximum capacity of 50 and may be upgraded as seen below. Like crates and town centers they are considered part of the shared inventory. 4 Z-levels of the barn are accessible.
Building Upgrades
[
]
How to build
[
]
Notes
[
]
When placing a barn, you have the option to set an Item filter which allows you to choose what items are able to be placed inside the storage compartment.
Select one of the 4 slots
an UI will be shown center of your screen, where you can then select an item filter for the specific slot you have clicked.
Note that the "item filter" area below the "storage" area is for the Output of the building, not for filtering the storage container.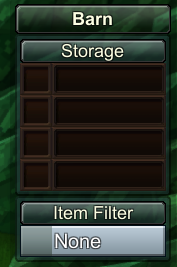 Compare with Silo,
Barn can store store 50 items per slot, so barn can store total 200 items, but Silo can store 100 items.

Additionally, barns can be upgraded to increase storage up to 1000 items.

Barn can store 4 different types of items, but Silo can store only one type of item.
Barn takes up 9 tiles of ground space while Silo takes up only a single tile.
Items stored in barn could be used to build. Barn's inventory is considered as Shared Inventory, But Silo is not.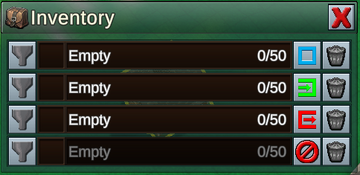 Each Barn slot has input/output controls. The settings can be changed at any time by clicking on the icon and cycling through the choices.
Storage - both input of items and output of items allowed for that slot
Input - only input of items is allowed for that slot, no output. This setting is useful when you want to reserve items.
Output - only output of items is allowed for this slot, no input is allowed.
Off - No input or output is allowed for this slot.