Tavern/Gourmet Food(old)
Details

Description

Sells Prepare food to nearby house/Distributes and sells gourmet food automatically to nearby houses

Cost

20 Stone Brick
20 Planks

Size

3x3
The Tavern is a building that automatically distributes and sells Gourmet Food to nearby houses. It is one of five Market Buildings.
Houses must be connected to the Tavern by pathway. A fully upgraded level ten house wants 6 points in Gourmet Food.
Inventory Items
[
]
Market buildings do not stock items like production buildings. They have a list of items they will purchase to supply the houses. These items are what the Tavern will purchase.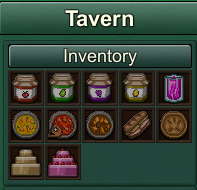 The building that provides goods for the Tavern is the Kitchen (Apple Jam, Pear Jam, Berry Jam, Cactus Jame, Dragon Punch, Vegtable Stew, Fish Stew, Meat Stew, Sandwhich, Apple Pie, Cake, and Berry Cake) for Gourmet Food. Items sold here give many Yellow Coins.
How to build
[
]
Open the Build Menu (B)
Select "Building" (D)
Select "Tavern"/"Gourmet Food"
Find a flat 3x3 area
Left click to build
History
[
]
| | |
| --- | --- |
| late Early Access | |
| | | |
| --- | --- | --- |
| Early Access | | |